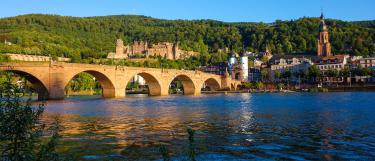 The HCE's "Heidelberg Bridge" Colloquium
The "Heidelberg Bridge" colloquium is a lecture series that creates a platform for interdisciplinary exchange and communication with the public. HCE Members, researchers and public speakers from the University of Heidelberg and beyond participate in the colloquium and share their expertise in an engaging and accessible way.
PLACE
The events will take place on site (Marsilius-Arkaden, Im Neuenheimer Feld 130.1, 69120 Heidelberg) or online (Zoom), depending on the current Corona regulations.
Participants will be announced in time via email.
REGISTRATION
Due to the limited number of seats, registration is required at hce@uni-heidelberg.de.

PROGRAM SUMMER SEMESTER 2022
What can science do for protecting the climate?
Advancing Climate Action Science
PI's of the four Projects funded by HCE present their work.
Wednesday, May 4th 2022, 5 PM [online]
Impacts of climate change on infectious diseases
Prof. Dr. Joacim Rocklöv, Heidelberg Institute of Global Health (HIGH)
Wednesday, May 18th 2022,  5 PM [Lecture hall MK + online]
Natur und Lyrik: eine Wahlverwandtschaft? (in German)
Prof. Dr. Amelia Giuseppina Valtolina, Università degli studi di Bergamo
Wednesday, June 1st 2022,  5 PM [Online]
Kontaminierte Speicher. Sondagen in literarische Moore der Gegenwart (in German)
Prof. Friederike Reents & Annika Hammer
Wednesday, June 15th 2022,  5 PM [Lecture hall MK + online]
Nachhaltigkeit Lehren Lernen (in German)
Prof. Alexander Siegmund, Pädagogische Hochschule Heidelberg & Dr. Nicole Aeschbach, Geographisches Institut und Heidelberg School of Education (HSE)
Wednesday, June 29th 2022,  5 PM [Lecture hall MK + online]
Bioökonomie – Vision oder realistische Lösung? (in German)
Prof. Dr. Nicolaus Dahmen
Wednesday, July 13th 2022,  5 PM [online]
Alles Leben produziert Methan (in German)
Prof. Dr. Fank Keppler
Wednesday, July 27th 2022,  5 PM [Online]