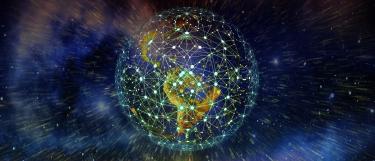 Informational Governance & Climate Action
As the information revolution continues, climate change remains high on public and political agendas around the world. Informational governance is a relatively new analytical concept explaining societal changes appearing in the Information age, resulting from new patterns of information flows.  These two topics are rarely connected, but information plays a crucial role in dealing with climate change and thereby empowering governments and citizens to take action.
The main aim of this webinar is to identify the emerging issues in this new interdisciplinary field, with a particular focus on climate action science. This webinar will bring together different interdisciplinary scholars who are interested in exploring how information is changing the way society is engaging with climate change.
On the basis of these discussions, a proposal for a special issue on "Informational Governance and Climate Action" will be sent to the journal Climate Action. Topics of this special issue include, but are not limited to:
Climate information construction in policy processes
Polycentric climate governance
New ways of measuring granular climatic data
New global arrangements, and public engagement in the Information Age
Other

Application & Registration
Interested participants must send a 250 word abstract together with their registration containing:
Full name
Affiliation
Contact details
Names and institutions of potential co-authors/ collaboration partners
The abstract should briefly describe the scope of the proposed contribution, the main objectives and how these relate to the broader field of infomational climate governance, as well as some details about the empirical and/or theoretical approaches used.
If your abstract is selected,  you will have to present it during the webinar.
Please submit your abstracts by Friday, 16th of September 2022 to hce@uni-heidelberg.de
You will get a notification of acceptance soon after.
20.09.2022
4.00 - 4.10 pm Welcome - Goals and Expectations
4.10 - 4.20 pm Impulse Talk: The Governance Perspective Prof. Jale Tosun
4.20 - 4.30 pm  Impulse Talk: New Developments in High-Resolution GHG Emissions and Concentration Information Prof. André Butz
4.30 - 6.00 Elevator Pitches of Article Ideas 
6.00 - 6.15 Collection of topics for the special issue


Dr. Spyros Bakas
Springer Nature Publishing Editor Climate Action
Tiergartenstrasse 17
69121 Heidelberg                                                                                                                                                          
spyros.bakas@springernature.com