HCE College
The thematic focus of the HCE College for the period 2021-2023 is "Climate Change and Society: mitigation and adaptation strategies."
The HCE College is an interdisciplinary program that equips junior scientists with the skills to understand and manage the impacts of climate change on society and the environment, using insights and expertise from a range of concepts and disciplines including bioeconomics, circular economy, environmental physics, geography, global health, environmental economics, and political science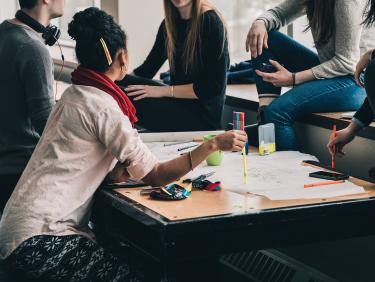 The HCE College is aimed at doctoral students and postdoctoral fellows from the entire field of environmental sciences in the natural, social and cultural sciences. The program consists of bi-weekly meetings, coaching, field trips, travel grants, and mentoring.
In a bi-weekly, two-hour meeting, the HCE College Members get to know each other, their topics and the different subject cultures and coach each other. The interdisciplinary exchange also offers the opportunity to put one's research question into other disciplinary contexts in order to incorporate new perspectives and ways of thinking. Each meeting is accompanied by a senior researcher who provides feedback on the content and can pass on his or her own experience to the fellows.
A professional coaching program tailored to the needs of the members promotes cross-competencies among the members and strengthens the cohesion among the members.
In order to be able to build up one's own professional network and to make one's research visible in the community, the HCE provides funds for "networking activities". These funds can be used to attend conferences or workshops, or to meet with potential collaboration partners (e.g. in the context of preparing a joint proposal).