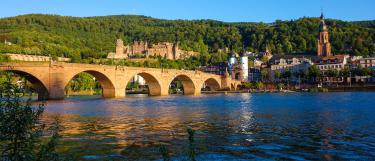 The HCE "Heidelberg Bridge" Colloquium
The "Heidelberg Bridge" colloquium is a lecture series that creates a platform for interdisciplinary exchange and communication with the public. HCE Members, researchers and public speakers from the University of Heidelberg and beyond participate in the colloquium and share their expertise in an engaging and accessible way.
PLACE
The event will take place online.
REGISTRATION
Due to the limited number of seats, registration is required at hce@uni-heidelberg.de
Program Winter Semester 2022-2023
Resources, Energy, and climate change
Background:
Mitigating and adapting to climate change is paramount in the 21st century. At the core of these challenges are our overall energy consumption and our dependence on fossil fuels. The escalation of Russia's war against Ukraine has created a fossil energy crisis and has exposed the EU's dependency on fossil gas imports. This presents a historical turning point for European energy and security policy. It further raises important questions related to our continued ability to honor the commitments of the Paris Agreement and Sustainable Development Goals, while at the same time maintaining standards for environmental sustainability, health, and societal wellbeing. This Winter Semester, the Heidelberger Bridge Seminar Series brings together internationally renowned scholars who will discuss these issues from different interdisciplinary perspectives, including international political economy, environmental health, conflict resolution, and peace studies.
This year the seminar series will be moderated and discussed by HCE Junior Fellow Sai MA.

Framing climate mitigation as health promotion: Implications for household energy choices
Prof. Dr. Katrina Smith Korfmacher, University of Rochester Medical Center, School of Medicine and Dentistry
Wednesday, 26.10.2022, 5 PM [Online]
Bio: Prof. Korfmacher's primary focus is on the communities' environmental health information and policy needs. She participates in many local partnerships relating to environmental health including the Coalition to Prevent Lead Poisoning, the Rochester Healthy Homes Partnership, the Water Education Collaborative, and the Pollution Prevention Institute.

Energy futures in the Arabian Peninsula & Gulf-Germany relations
Prof. Dr. Natalie Koch, Geographisches Institut, Universität Heidelberg
Wednesday, 23.11.2022, 5PM [Online]
Bio: Prof. Koch specializes in political geography, with a broad interest in how the territorial state system is maintained, and how individuals become subjects in different political systems and spaces. She has a special interest in the topics of authoritarianism, geopolitics, sovereignty and empire, nationalism, citizenship, and politics in resource-rich states.

The diffusion of renewable energy in a conflict area
Prof.Dr. Itay Fishhendler, Department of Geography, Faculty of Social Sciences, The Hebrew University of Jerusalem
Wednesday, 30.11.2022, 5 PM [Online]
Bio: Prof. Fischhendler's research interests focus on environmental conflict resolution, natural resources governance, and decision-making under conditions of political and environmental uncertainties. He is a leading scholar on transboundary water institutions and Middle Eastern water policy. He is now engaged in research related to the politics of energy infrastructure and energy diplomacy, including energy sanctions.

Rereading Russian Energy Chains Under the Thunder of War: Keys for Understanding the Current Russian-Ukrainian Crisis
Prof. Dr. Margarita M. Balmaceda, School of Diplomacy and International Relations, Seton Hall University
Wednesday, 18.01.2023, 5 PM [Online]
Bio: Prof. Balmaceda conducts extensive field research in Russia, Ukraine, Belarus, Lithuania, Moldova, and Hungary. Using original-language local materials, her work develops a view "from inside" of complex international political economy problems affecting the post-Soviet states, in particular energy politics issues.